Mission and Vision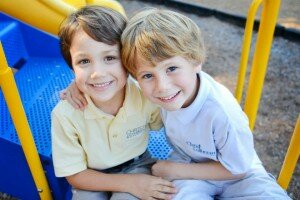 The mission of Christ Lutheran School is to partner with families to raise followers of Christ, teaching His grace through academic excellence.
Our Core Values
Academic Excellence
Individual Achievement
Christ's Love
Our Philosophy
At Christ Lutheran School we believe:
The true purpose of this life is founded and developed in God as Creator, Redeemer and Sanctifier.
God's unconditional love results in service to others.
Each child is loved and accepted as a child of God and is encouraged to identify and develop his or her God-given talents.
Creative expression and thought must be encouraged in order to foster greater participation and positive self-esteem.
Our team, consisting of church, home and school works together for the total development of the child.
Teachers and staff are committed to being exemplary models in their love of Christ, children and families.
An excellent academic education must be provided for children of varying abilities in order that each may reach his or her greatest potential.
Our Vision
Christ Lutheran School strives to be a place where Christ's love and grace are exemplified and where we value challenging 21st century instruction and learning to provide a solid foundation for students to mature spiritually, academically, emotionally and socially.
What Do Lutherans Believe?
Lutherans believe that:
The Bible is the inspired Word of God — it is absolute truth;
God is one God in three person — Father, Son and Holy Spirit;
God the Father sent His Only Son, Jesus Christ, to die for all people. When he rose from the dead, Christ overcame sin, death and the devil and made possible eternal life in Heaven for all who believe in Him;
God sent the Holy Spirit to empower all believers to live their lives according to His Word.
Lutheran Core Values
Scripture Alone – God's revelation of Himself, through the inerrant Word of His Law and Gospel in the Bible, to his most loved creation – man.
Grace Alone – Only by the empowering grace of God can we hope to approach and understand our Creator. His greatest evidence of grace to us is found in His son Jesus Christ.
Faith Alone – Having begun to see the greatness of God's love for us as understood in His Word through the gracious intention of His will, our faithful response comes in areas such as:

Our belief in the saving death and resurrection of Jesus Christ
Our realization of the indwelling of the Holy Spirit
Our foundation that life is of God and as such is always precious
Our worship of God is active through both corporate fellowship and daily devotions and prayer, and our giving back to God with all that we have and do
Our relationships with each other are extensions of God's love
Our excitement over his love for us compels us to make disciples of all nations through sharing of our faith and teaching our children
Our integrity is seen in every one of our actions.
"Let us fix our eyes on Jesus." Hebrews 12:2